Multi-state Witnessed Fall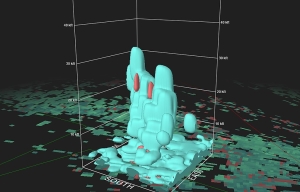 On August 22, 2012, at 11:17 PM, a large, slow-moving fireball was witnessed by residents of California, Nevada, and Idaho. Sonic booms were reported in Winnemucca and Battle Mountain, Nevada.
The American Meteor Society received only 12 reports for this event (#1192), which is not surprising, considering the remote area where the bolide occurred. Dr. Marc Fries quickly found a linear Radar feature that suddenly appeared in the area indicated by eyewitnesses in the three states. In a very fortuitous bit of coincidence, the nearest radar station was in an experimental highest resolution mode, which greatly increased the amount of data available for the event.
Indications of a Difficult Hunt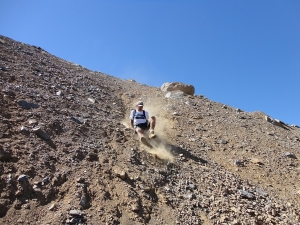 A few days after the fall, I arrived in the town of Battle Mountain. I had just completed building an up-armored HMMWV and had decided to take it on this expedition for its maiden voyage. I met Dave Gheesling that evening and we spent several hours examining the radar data and access roads to the location. The following morning we began the treacherous drive up the east side of Battle Mountain on a winding, seldom-maintained mining road. It quickly became evident to us that the new ride was a great advantage in getting us to the site. We parked on top of a ridge-line that was centered in the radar returns and began to scour the area.
The terrain was treacherous with large, loose rocks and steep ridges. Dave and I climbed our way into a nearby mining pit and combed the area for the better part of the day. Heading back to the vehicle, we soon found ourselves in the middle of some very large mining tailings, picking our way through what appeared to be the safest path. It soon became apparent that turning around would be just as dangerous as continuing to slide down the loose tailings.
We finally found an abandoned mining road that would take us back towards the HMMWV. I had noticed several lion tracks in the loose soil and had warned Dave to be aware of his surroundings. I don't think he really took me seriously until I pointed out a line of very fresh lion urine on top of a large boulder in front of us that had just started to release over the stone's edge. We picked up the pace and made it back to the vehicle safely.
First Stone Recovered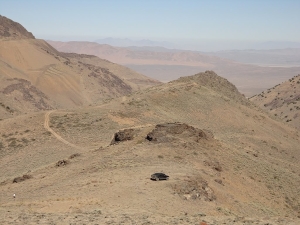 After several days, Dave returned to Atlanta and I continued to hunt in different areas under the returns with no success. A large storm blew in one evening, and I soon discovered that the Humvee was far from watertight. I had made camp in a very narrow canyon, and the thought of a flash flood sweeping through weighed heavily on my mind as I surveyed the large pieces of driftwood wedged between rocks and trees all around me.
After a very wet and cold night, I ambled out of the Humvee, gathered my gear into the backpack, and began to climb out of the bottom of the canyon. I was no more than 40 yards from camp when I nearly stepped on a rattlesnake. While taking a midday break beneath a cedar tree midway up the side of the canyon, I noticed a vehicle parked in a clearing at the base of Battle Mountain. I could see several people meandering around, clearly hunting for meteorites. I began to work my way towards them, and after an hour and a half I arrived to find Bob Verish and Moni Waiblinger. I walked up to Bob and asked, "Well, any luck?" He looked as if he was deep in thought for a few moments, and then produced a 19 g meteorite. I had arrived shortly after he found the first piece!
Large Stone Discovered
The following day, I was investigating an alternate route that had been suggested by another meteorite hunter when I ran into several mining trucks parked at a fork in the road. I inquired as to whether any of the miners had witnessed the meteor, and they indicated that the man I wanted to talk to would be arriving shortly.
I soon met Miles Inama, who proceeded to share a fantastic firsthand account of the experience. He said he was hunting jackrabbits in the plains when the bolide flew overhead, and that he thought it had landed in the flats down by the highway. I spent some time explaining what he had witnessed and the importance of recovering the material, as well as showing him a sample of a freshly fallen meteorite that I had with me. I said my goodbyes and was getting ready to pull away when Miles ran up to my vehicle and asked me to follow him back to the drill site. What followed was the most fascinating eyewitness account of a meteorite fall that I have ever encountered.
Miles explained that he had already run into another meteorite hunter, who he did not have a good feeling about, that had told him the same made-up story that I had heard a short time earlier. But after seeing me take the time to explain the phenomenon and talk with the miners, Miles and his partner decided to tell me the real story.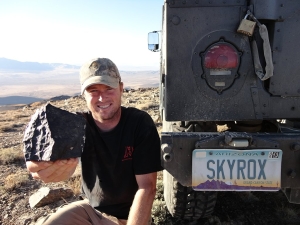 The two men were stationed at a core drilling site atop Battle Mountain the night of the fireball. They told me they were conversing when the ground lit up around them and night became day. Miles saw the reflection of the fireball in his partner's safety glasses, and his partner described how the fireball exploded to the west. They both described the great ball of fire that continued towards them. Miles said the noise was indescribable, that it actually drowned out the deafening noise from the drill just meters from them.
He described it as looking like "a D8 Caterpillar pulling a water trailer, covered in fuel and on fire." Miles stood there in awe as his partner ran for safety underneath the drilling rig. They both watched the fireball fade and disappear low on the horizon. They immediately hit the kill switch on the drill rig and seconds later heard what sounded like fly rock from blasting whizzing by their heads. Miles described three separate sounds of that nature, each followed by a distinct thud. I knew from their description that they were not making it up and that stones had fallen very close to the location I was standing. It was after 8 o'clock, so I suggested to them that we meet early in the morning and hunt in the area.
At 7 o'clock the following morning, I was awakened by a loud bang on my hotel room door. As I opened the door, a wide-eyed Miles stuck a 954-gram meteorite through the opening and exclaimed, "Is this what you are looking for?!"
Over breakfast, he explained how later in the night curiosity had gotten the best of them and that they had turned the spotlights at the drill site around towards the mountain side where they had heard the thuds. He had found the stone just meters above where my Humvee was parked the night before. I made him a deal for the stone that morning and called Dave, who joined me again for another couple of days on the hunt.
My first Recoveries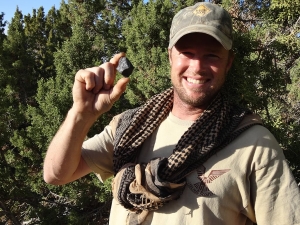 Soon after, other Meteorite hunters began to arrive, and I made my first discovery on my tenth day in the field while hunting with Mike Farmer and Greg Hupe. Mike stopped for a minute to retrieve something from his backpack, and I saw this as a good opportunity to sneak up and scare the hell out of him. While crawling between several nearby cedar trees, I found the 35-gram stone.
I was exploring a ridgeline several days later with Greg Hupe, and we paused on the highest point to take pictures with each other's cameras. After maybe 10 minutes or so, I looked down and spotted a 31 gram meteorite directly between us! Fifteen minutes later, I found another 105 gram stone perhaps 20 meters away.
A few days later Marc Fries arrived. I had been spending considerable time looking for the main mass that had continued down the flight path, and we began to compare the radar data with eyewitness information that I had gathered from the miners, locals in town, and actual meteorite find locations. My next find was just minutes after Marc and I left camp one morning. I discovered a beautiful, intact 262 gram stone beneath a bush, and within a few hours I found another stone of 125 grams on the opposing hillside near camp. Marc was nearby, so I waited for him to arrive before collecting the stone. He commented, "You suck, but in an epic way!"
Attempted Vehicular Suicide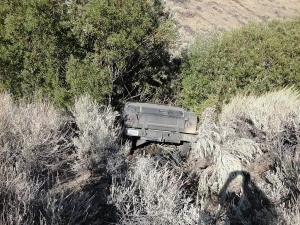 Several days later, most of the professional meteorite hunters had left the strewn field, and I began to scout roads leading into the area where we predicted the main mass may have impacted. I was driving a very remote mining road that had not been used in decades, stopping the Humvee occasionally to glass ahead. During one such instance, I got out and walked several meters in front of the Humvee that I had left running, and several minutes later I heard a loud "pop!" As I turned back, the vehicle raced past me, drove off the road, and crashed into a thicket of trees at the bottom of the canyon, lodging itself into a narrow ravine. It took several hours of slowly driving the front tires forwards and backwards a few inches at a time, placing rocks underneath until the front end was above the edge of the ravine.
It was clear that the angle of the slope was at too steep to back out, even in the Humvee. In a last desperate move, I decided to give it everything it had and try to bust my way through the trees on the other side of the ravine and work my way down the canyon. I turned the steering wheel towards the weak spot in the trees, punched it, and held on tight as the machine bucked and groaned until I was surrounded by daylight. Amazingly, the Humvee had chewed its way through. But now I was sitting on the wrong side of the canyon.
Upon inspection of the underside of the vehicle, I found a fist-sized hole in the transfer case. It took perhaps another hour of moving rocks and logs before I was able to pick my way down to a spot where I could cross the ravine with the broken transfer case and get back on the mining road. I was able to slowly make my way down to the main road, and at the speed of only a few miles an hour it took more than five hours to arrive at the highway where I could get towed into to town.
The realization that I was almost run over by my own vehicle, and that an accident could have occurred any number of days when I had a passenger with me, began to sink in. I decided to take a week off while a local mechanic was awaiting a new transfer case for the Humvee. Larry Atkins was leaving the following morning for Las Vegas, and he kindly loaned me his rental car so I drove to Bullhead City. I spent a few days at my mother's place before driving back to Battle Mountain to pick up the Humvee and resuming the hunt.
Not Alone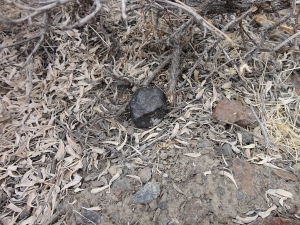 While gathering firewood one evening, I startled an animal 20 meters or so out of camp. As I heard it tear through the brush, I thought it odd that a deer would have wandered so close to my campfire. A short time later, I began to make the walk up to a nearby bluff for my nightly mobile phone call. I got perhaps 15 meters from the Humvee when I felt a chill, simultaneously realizing that I did not have my pistol on me and turned back to get it – when I noticed two green eyes in the light of my headlamp.
Something was perched on a dirt bank above my camp. My first thought was that maybe it was an owl, as I turned the light off and turned it back on the creature ducked down behind some brush. Adrenaline surged through me as I realized a mountain lion was stalking me.
Having experience with lions in the past, I knew not to make any sudden movements and approached with the Humvee separating us. I reached into the Humvee and collected my 9mm pistol, then climbed on top of the vehicle. The cat was positioned at the edge of the ravine I was camped in, well hidden in thick brush and no more than 5 meters from me. Although at this point I knew the upper hand was mine, it was certainly an uneasy feeling watching the tritium sights on my 9mm shake in between the green eyes of a predator stalking me in the darkness.
I recovered one stone of 27 grams on the second expedition, bringing the total number of personal recoveries to six. The Battle Mountain meteorite fall was a rewarding and awesome hunt in the remote and rugged American Southwest that I love so much.
---
THE OFFICIAL NAME OF THIS METEORITE IS BATTLE MOUNTAIN.
IT WAS CLASSIFIED AS A L6 ORDINARY CHONDRITE.
| | |
| --- | --- |
| Name: | Battle Mountain |
| Location: | Humboldt Co., Nevada, USA |
| Classification: | L6 |
| Witnessed: | Yes |
| Fell: | August 22, 2012 |
| TKW: | ~5.25 kg |