Puerto Lápice Meteorite Arrives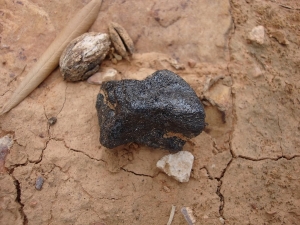 On May 10, 2007, a large daylight fireball was witnessed over La Mancha, Spain. German meteorite hunter Thomas Grau triangulated the termination point of the fireball using several all-sky cameras and many eyewitnesses, and then proceeded with a ground search. His diligence was soon rewarded with the recovery of several stones.
This meteorite turned out to be a eucrite, a very rare type of meteorite that produces a beautiful, black, glossy fusion crust that is prized by scientists and collectors alike. A fall like this may only come along once in a meteorite hunter's lifetime. So when Robert Haag who had recently returned from the strewn field, invited Mike Farmer and me to accompany him on a return visit, we accepted his invitation.
On September 12, 2007, we arrived in Madrid. After hours of fighting the traffic we finally arrived at the La Mancha region of Spain. That evening, we were sitting on a patio area overlooking the olive groves and rolling hills on the edge of the town of Puerto Lápice, enjoying local olives, cheese and chorizo accompanied by a cold mug of beer. The staff of the hotel and café gave their accounts of the events of May 10th to us, describing a huge ball of fire descending from the southeasterly sky and exploding into thousands of individuals with smoke trails behind them – and thunderous explosions a few seconds later that shook the hotel to its foundation.
After settling into our rooms we headed out to the strewn field, several miles from the hotel. Haag showed us where several stones had been found – in an olive grove among tens of thousands of small, wrinkly, black olives glistening on the red dirt underneath the hot Spanish sun. These olives were the same color, texture and size range of the stones found in this part of the strewn field, making for a very difficult visual search.
Into the Vinyards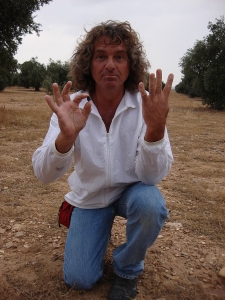 The following day started off with several double-shot espressos before we embarked on the ten minute drive to the strewn field. After several hours of searching, Mike made the first find – a broken fragment. It was the light gray interior over the broken surface that Mike spotted first. Within an hour of Mike's find, I found my first stone, a complete individual. I met up with Haag shortly thereafter, and he, too, had found a stone, which was his fourth recovery. We all returned to the hotel extremely happy and looking forward to the next day of hunting as we ate a delicious meal. I enjoyed partridge escabeche and a bottle of La Mancha's famous red wine.
The next few days brought more finds in the same area, but my deeply-set instinct to go 'trophy hunting' for larger stones down the flight path soon kicked in. I had my eye on a dome-shaped hill to the northwest. Soon I was on top of this hill overlooking the beautiful rolling hills and wide valleys of La Mancha, which were dotted with historic windmills made famous by fine wine and writer Miguel de Cervantes' fictional character Don Quixote. Vineyards and olive groves rolled through the landscape like a sea of green; it is truly one of the most relaxing atmospheres I have ever experienced.
Towards the end of the day, I was tearing through some thick brush at the base of the hill when something grey caught my eye – a shade and texture that did not fit the environment. As I knelt down, I noticed black shock lines and immediately realized that I had found a large, broken stone. All of the pieces together weighed about 15 grams. That evening we sat on the patio again, admiring the day's finds over a mug of beer.
My Largest Stone Found
The following day I continued several miles further down the flight line with no luck, so I returned to the round hill in the evening. Within several hours of hunting, I found my largest complete stone of 9.76 grams – an absolutely stunning specimen. The evening of the last day of the hunt – as Mike and I sat on the patio enjoying our third mug of beer and recounting highlights from the trip -it suddenly occurred to me that there was an hour-and-a-half of daylight remaining. I said to Mike: "I bet if we go back out there we could find one more before dark." He immediately jumped up and said, "Let's go!"
One last try…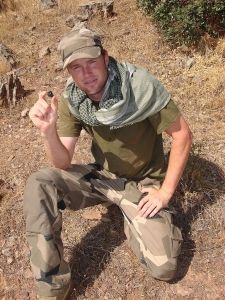 We grabbed a couple of cans of beer at the gas station and were off. When we arrived at the strewn field, Mike tore down one of the rows in our Mercedes rental car to the far end of the grove where we had recovered several of our larger stones. I got out, cracked a beer, walked about 15 feet, looked down and said, "My God, Mike, I just found one!" His reply was "colorful" as he ran over to meet me. Kneeling down he yelled, "Oh my God!" Both of us were shocked at this last minute find!
Looking back, this hunt is one of the most calmingly-enjoyable memories from my past – one that my mind wanders back to often. La Mancha and my experiences with the Puerto Lápice fall will no doubt stay with me for the rest of my life.
---
PUERTO LÁPICE IS CLASSIFIED AS AN ACHONDRITE, EUCRITE (BR)
TOTAL KNOWN WEIGHT OF THE STONES RECOVERED IS ~380 GRAMS
| | |
| --- | --- |
| Name: | Puerto Lápice |
| Location: | Castilla-La Mancha, Spain |
| Classification: | Eucrite (Br) |
| Witnessed: | Yes |
| Fell: | May 10, 2007 |
| TKW: | ~500 gm |