Moss Meteorite Arrives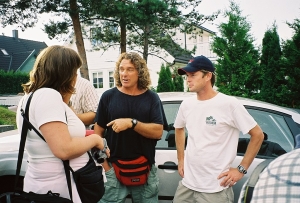 A large fireball was witnessed by thousands of people in Norway on Friday, July 14th, 2006 at 10:15am local time. Seconds later, Ragnar Martinsen heard sonic booms that rattled the walls of the structure he was in — an outhouse close to his cabin. As he walked out the door, he heard a high pitch whistle and a small stone hit a piece of metal roofing material that was on the ground several feet from him, and Martinsen was subsequently the first person to find a stone from this fall.
The next stone was discovered when the Johnson family returned home from a trip. As Mr. Johnson was mowing his lawn, he noticed a broken branch on his fruit tree, and he also noticed a hole in the ground directly below the broken branch. Remembering a newspaper article about the fireball and recovery of a meteorite, he examined the hole and found an intact meteorite of more than 700 grams in weight.
Mr. Johnson contacted Morton Billet, an avid meteorite enthusiast from Norway, who had several articles out in local newspapers asking people to look for meteorites and contact him with any information. Morton emailed pictures to my hunting partner Mike Farmer, and Mike immediately recognized this material as being a CO carbonaceous chondrite. When Mike called me and told me that a CO had just been recovered in Norway, my first thought was that this might be a once in a lifetime chance to personally recover a fresh CO. My second thought was "how quick can we get to Norway?!" A few hours passed, and the tickets were purchased and my bags were packed.
At the Johansen House
I drove to Tucson and met with Mike and Robert Haag, who had decided to join us for the adventure. We flew out on July 23rd and arrived in Oslo on the 24th. We drove to the town of Moss and rented a hotel room directly between the two recovery locations, which was about four kilometers apart. While we waited for Morten to arrive, I tried to cover every square meter of the parking lot and lawn in front of the hotel, hoping to stumble upon a piece.
When Morten arrived we all went to the Johansen house and examined the damaged tree and the hole in the ground. Several other meteorite hunters were already there. All of the activity was upsetting neighbors, who then came over and asked everyone to leave.
We proceeded to the cabin where the first stone was witnessed to fall, in a remote area deep in the woods next to a large military base. We hunted dirt roads near the area on the way in and upon arriving at the cabin we were met by another group of meteorite hunters. Although we had spoken with the landowner, soon we were again asked to leave. It seemed that Norwegians valued their peace and quiet!
Shattered Stone Found!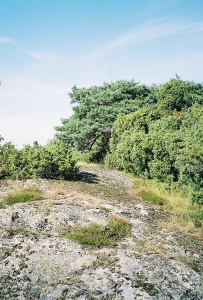 I walked through the forest and along several roads near this area, knowing that the chances of finding a small stone there was greater than finding a larger stone further down the flight path. Unfortunately, after several hours of hunting, we returned to the hotel empty handed. During the next few days, we spent some time walking roads and forest trails near the hotel, as well as talking to people about the fall. Haag and I drove to areas down the flight path, hunting parking lots, school yards and parks.
After long days of walking we were exhausted — mentally and physically. The twenty-four hour daylight made a regular sleeping schedule impossible, and the weather forecast called for rain to come soon. Precipitation would certainly destroy any chances of us recovering fresh samples, and Haag had decided to return home to Tucson. Mike and I had less than two days left, in the face of mounting clouds.
The next day I walked through some residential areas with steep hills that I had not hunted before. As I was cutting across the edge of a neighborhood trying to get to an industrial area on the other side of a creek, I noticed a white wooden fence that had been smashed. We had heard about a stone that had hit a white wooden fence and shattered it, so I looked the area over for a while and tried asking the residents of the house how their fence had been damaged. Unfortunately, they did not speak English, so I headed back towards the hotel, hunting in some commercial areas along my way. I told Mike and Morten about the fence back at the hotel, and they soon left to further investigate while I lay down to relax my feet.
I must have dosed off for quite a while, because I was startled from a deep sleep by Mike — waving bags of meteorite fragments in my face! He explained that, after the residents of the house with the damaged fence told them the damage was caused by a car, they were returning to the hotel and noticed a parking lot in a concrete plant that none of us had hunted before. They drove in and parked, then Morten got out, walked several meters, bent down, picked up a stone and shouted: "Mike, a piece!"
They had discovered a location where a large stone had impacted the concrete parking area and shattered; there were fragments everywhere they looked! They picked up pieces for a few minutes when Mike suggested to Morten that they should return to the hotel and get me — a characteristic of Mike that I've always found impressive. No matter how absorbed everyone is in the moment of discovery, he always insists that his partners all share in the experience — and in the stones themselves. After we returned to the parking lot in the early morning, we picked up over eight hundred grams of the spectacular CO! At about the time we felt that most of the material had been picked up, the rain finally started falling. The material had thankfully been saved from destruction with not a minute to spare!
End of the Journey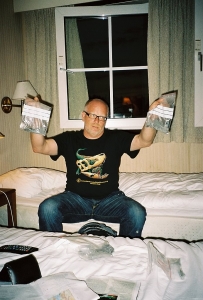 Upon arriving back at the hotel, we split up our finds. Morten graciously let me pick out one of the largest pieces, and it, along with a smaller one that I personally recovered, now graces the Iron from the Sky Collection.
Several weeks later, a roofer was called to repair a leak in the roof of a local factory. He found a 676 gram stone stuck into the roofing material, and this stone was donated by the corporation that owned the factory to the Natural History Museum of Oslo.
---
MOSS, THE OFFICIAL NAME OF THIS FALL, WAS CLASSIFIED AS A CO 3.6
TOTAL KNOWN WEIGHT OF THE STONES RECOVERED IS 3.96 KILOGRAMS
| | |
| --- | --- |
| Name: | Moss |
| Location: | Ostfold, Norway |
| Classification: | CO3.6 |
| Witnessed: | Yes |
| Fell: | July 14, 2006 |
| TKW: | 3.96 kg |